Professor Toshihiko Kuwabara receives the Minister of Economy, Trade and Industry (METI) Award at the Ninth Monodzukuri Nippon Grand Award
Media & Awards

2023.3.6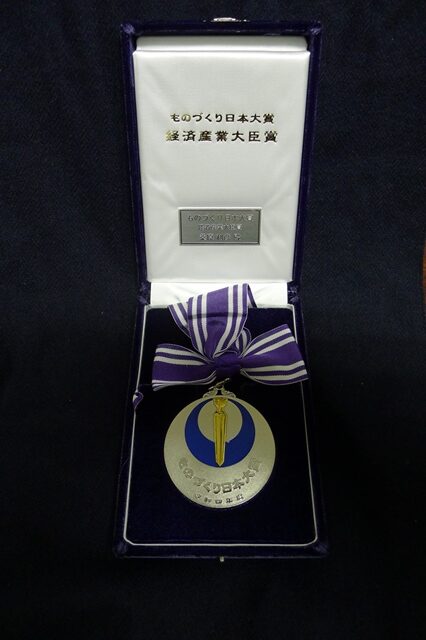 Toshihiko Kuwabara, a professor of the Institute of Global Innovation Research, received the METI Minister's Award at the Ninth Monodzukuri Nippon Grand Award on January 23, 2023.
-Name of the award
the METI Minister's Award, the Ninth Monodzukuri Nippon Grand Award
-Outline of the award
Winning title: Development of the world's highest-performance "non-loosening screws" and rolling dies for mass production
The "non-loosening screw," which consists of a single bolt with two types of complex lead threads of different sizes (large and small) excels in preventing loosening thanks to the mechanical interference effect of the outer nut. Dr Kuwabara's team has developed a structure that is easy to maintain with common tools, and has achieved a design that prevents loosening while maintaining workability, which has previously been considered difficult to achieve. They have also developed complex lead thread rolling dies for mass production, and are engaging in efforts to license the manufacturing and distribution rights of the non-loosing screw to domestic and overseas manufacturers, thus accelerating the use of the non-loosening screws and contributing to the safety and security of society.
The Monodzukuri Nippon Grand Award is a program that recognizes outstanding individuals from various generations engaged in monodzukuri (manufacturing) in order to further develop manufacturing. The award aims to support the development of industry and culture in Japan and ensure that monodzukuri practices that enrich people's lives are passed down and developed to respond flexibly to changes in the business environment.
-Award winners (jointly named)
Shuichi AMANO (NISSEI)
Yuki OKIMOTO (NISSEI)
Jyo SHIMURA (Suwa University of Science)
Toshihiko KUWABARA (Tokyo University of Agriculture and Technology)
Teruie TAKEMASU (Happy Science University)
Makoto SAKAMOTO, (Tokyo Metropolitan College of Industrial Technology)
Links
(METI) Winners of the Ninth Monodzukuri Nippon Grand Awards
KUWABARA Laboratory
(TUAT) KUWABARA Toshihiko