Tsutomu Arie, Professor of GIR, and Ken Komatsu, Associate Professor of GIR, won "JSSM Best Poster Award"
Media & Awards

2021.8.30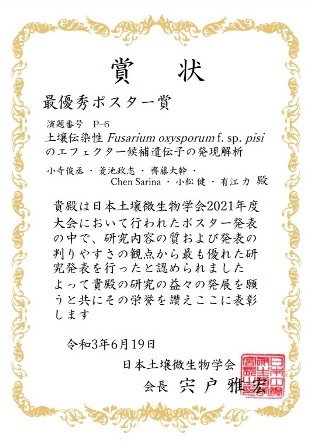 Tsutomu Arie, Professor of GIR, and Ken Komatsu, Associate Professor of GIR, won "JSSM Best Poster Award" from Japanese Society of Soil Microbiology on June 19th, 2021.
-Award
JSSM Best Poster Award
-Outline of the award
Research topic of the award-winning poster presentation: Gene expression analysis of candidate effector genes of Fusarium oxysporum f.sp.pisi, an infectious fungal plant pathogen
This "Poster Award" is to recognize outstanding posters presented at the annual meeting of JSSM, aiming to contribute to the development of soil microbiology and to encourage research activities of JSSM members. "JSSM Best Poster Award" is given to the individual(s) with the most outstanding poster in terms of his/her research content and quality; poster design; and presentation skills.
Japanese Society of Soil Microbiology (JSSM)
http://jssm.sakura.ne.jp/JSSM-E.html
https://en.tuat-global.jp/researcher/c-2831-2013/