Professor of GIR, Hiroyuki Sasahara, won "Outstanding Paper Award" from Machine Tool Engineering Foundation
Media & Awards

2020.8.25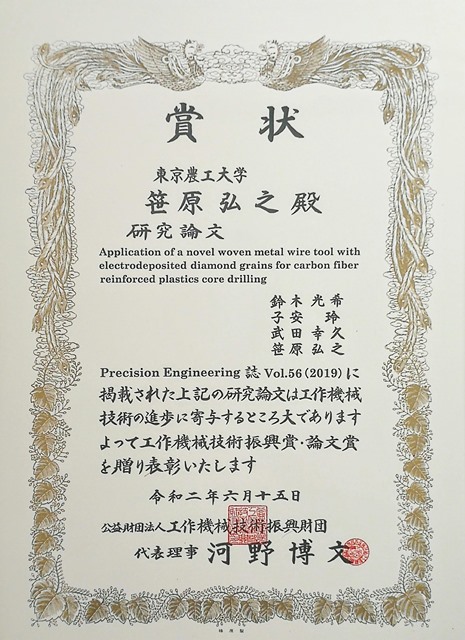 Professor of GIR, Hiroyuki Sasahara, won "Outstanding Paper Award" from Machine Tool Engineering Foundation on June 15, 2020.
■Award
Machine Tool Engineering Foundation
"Outstanding Paper Award"
■Outline of the award
Winning Theme: "Application of a novel woven metal wire tool with electrodeposited diamond grains for carbon fiber reinforced plastics core drilling, Precision Engineering, 56 (2019) pp.386-394."
Content of the paper: Professor Sasahara developed a new tool electrodeposited with diamond abrasive on cylindrical wire mesh that is used for core drill. This tool is able to reduce the cutting areas as it is made of a thin cylindrical wire mesh, and suppression of delamination is expected as the axial machining force is significantly reduced. Further with this tool, the chips can easily slip from the gaps of the wire mesh thus this can avoid clogging. Therefore, when it comes to drilling carbon fiber reinforced composite material (CFRP), such material used in aircrafts, both great reduction of chips in drilling and maintaining fine surfaces were achieved with the application of this tool.
This award is given to the author of the outstanding paper that contributes to the future development and progress of machine tool technology; while the research in the paper is to be related to the development, production or use of machine tools; novelty, originality, and industrial applicability of the research is taken into consideration.