[INTERDISCIPLINARY FIELDS] Naoi Team
Harmony between environment and energy: Energy facilitator leading to the future society
Team Head
Foreign Researcher(s)
Members
Atsushi Akisawa (Institute of Engineering / Professor), Naoko Ohtsu (Institute of Global Innovation /Professor), Etsuro Iwama(Institute of Engineering / Associate Professor)
Overview
Interdisciplinary Fields team will promote international collaborative research aimed at establishment of a new concept for energy storage and supercapacitor devices. Through international collaborative research, this team aims to establish platform for the next-generation supercapacitor and its international standardization. The ripple effect of such capacitor technology developments will be extremely wide; such as nursing care robots and electric wheelchairs in the aged society, smart mobility, and sharing network of small EV cars for parenting generation, where all leads to the future of smart city. We will tackle the issues strategically by combining the excellent research basement in Tokyo University of Agriculture and Technology ; material design using nanotechnology, device design, and applied research such as automotive and robotics.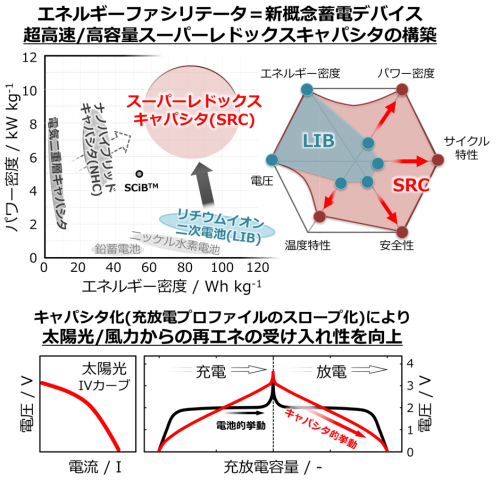 Approaches
In order to make effective use of renewable energy, it is an important key not only to improve electric power generation efficiency, but also to improve efficiency in all of electric power generation, storage and transmission. Our team aims to construct a new concept energy facilitator (new generation supercapacitor) that can directly and efficiently store and supply electricity produced by all kinds of renewable energy with different I-V characteristics. Use of supercapacitors as an intermediator of energy system enables the highly efficient storage/supply of regeneration energy which is unstable and fluctuating, where it is impossible for current power conditioners and batteries. For example, the energy system with supercapacitors placed in between solar panels (electric power generation) and lithium ion batteries (storage) can act as an "All weather, all season, all location" system which guarantees a constant amount of energy storage even under unstable sunshine or unseasonable weather.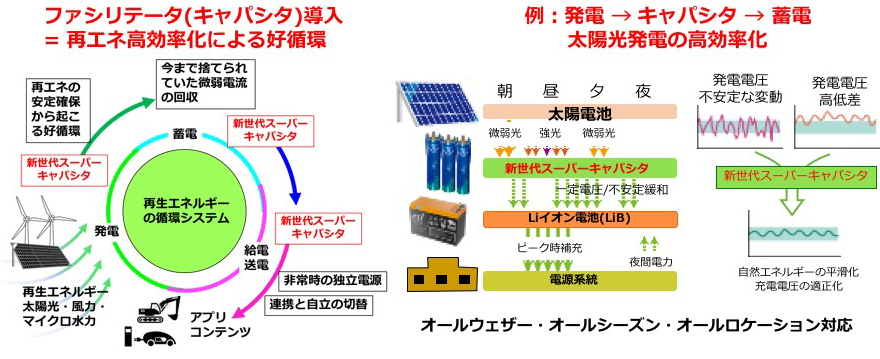 Plan
1. Defective crystalline materials I : Cation-disordered type
① Establishment of material synthesis procedure to control cation disordering of active materials for ultrafast electrochemical responses. ② Characterization and elucidation of the reaction mechanism of cation-disordering materials by use of synchrotron facility (in situ XRD, XAFS, neutron diffraction).

2. Defective crystalline materials II : Cation-deficient type
① Analysis of electrolytic decomposition products (SEI and passivating film) and crystal structure change during the charge-discharge cycle process for elucidation of cycle deterioration using synchrotron measurements. ② Elucidation of the influence of cation defect on electronic state (thermodynamic energy level distribution) and electrochemical property (lithium ion diffusivity and electric conductivity).

3. Assembling high-speed high energy type supercapacitor (super redox capacitor: SRC)
Assembling of a high-speed, high energy type capacitor "Super Redox Capacitor " using crystalline-defective materials (shown in above 1 and 2). Optimization of crystalline structure and corresponding electrochemical performance as an energy facilitator, and realization of new high energy-density type supercapacitor with optimized cell design.


COPYRIGHT 2019 ©TOKYO UNIVERSITY OF AGRICULTURE AND TECHNOLOGY., ALL RIGHTS RESERVED.