[LIFE SCIENCE] Mizutani Team
Research on emerging viral infectious diseases outbreaks in the near future
Team Head
Foreign Researcher(s)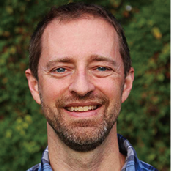 Christopher Buck 
| | |
| --- | --- |
| Affiliation | National Cancer Institute (U.S.A.) |
| Division / Department | Tumor Virus Molecular Biology Section, Lab of Cellular Oncology |
| Position | Senior Investigator |
| URL | https://ccr.cancer.gov/christopher-b-buck |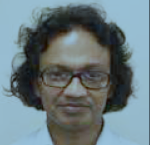 Monirul Md Islam   
| | |
| --- | --- |
| Affiliation | University of Chittagong (Bangladesh) |
| Division / Department | Dept. of Biochemistry & Molecular Biology |
| Position | Professor |
| URL | - |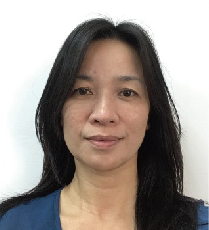 Wei-Li Hsu
| | |
| --- | --- |
| Affiliation | National Chung-Hsing University |
| Division / Department | Graduate Institute of Microbiology & Public Health |
| Position | Professor |
| URL | - |
Members
Hiroki Minoda (Institute of Engineering / Professor), Satoshi Koyama (Institute of Agriculture / Associate Professor), Tsutomu Omatsu (Institute of Agriculture / Associate Professor), Yutaka Kuroda (Institute of Engineering / Professor)
Overview
We believe that it is possible to predict future viral infections and to prevent the spread of infectious diseases. To that end, it is necessary to clarify how the virus has been born and evolved. And then, we will be able to predict future viral infections which are on the extension of the past. Infectious disease research team searches traces of virus infection from slime mold, moss and fossils, and looks for the origin of a common virus of plant viruses and animal viruses. In addition, we will conduct a detailed analysis of the viral genome recombination that is occurring in existing viruses. We will also clarify the evolutional mechanism of the virus that escapes from immunity. These are basic studies on the origin and evolution of viruses. The infectious disease research team aims for cutting-edge research from a multifaceted perspective, involving various researchers as well as infectious disease specialists.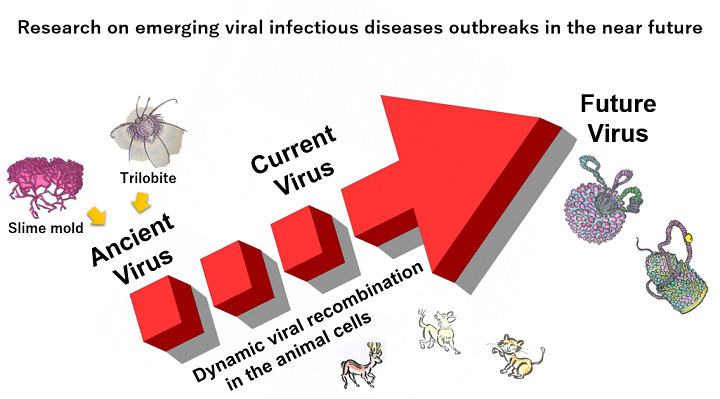 Approaches
(1) Analysis of dynamic viral recombination
(2) Clarify mechanism of recombination in animal viruses
(3) Discovery of ancient animal viruses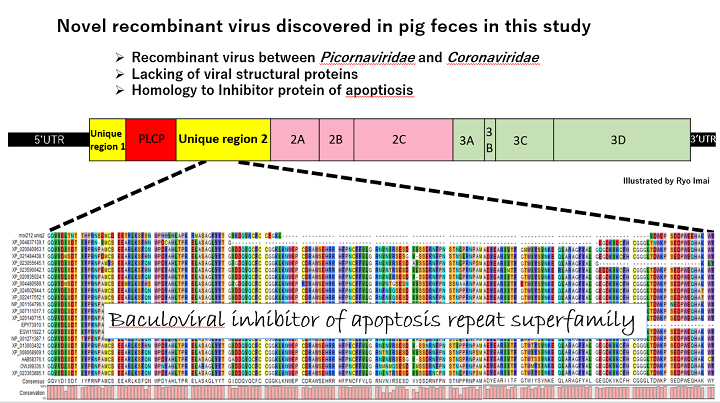 Plan
(1) Discovery of novel viruses by dynamic recombination.
We conduct detailed analysis on characterization of novel recombinant viruses and mechanisms by which recombination occurs and conduct research to predict recombinant viruses appearing in the near future. We are going to conduct a detailed analysis of the enterovirus and torovirus recombinant viruses we found in pig feces.

(2) Clarify mechanism of recombination in animal viruses
  Focus on internationally important dengue virus and clarify the conformation of viral particles. After infecting to mice with dengue virus, the antibodies against the virus are administered to analyze how the gene and protein were mutated relative to the escaped dengue viruses from the antibodies. From these studies and structural analysis of proteins of dengue virus already registered in GenBank, we predict the future of dengue virus.

(3) Discovery of ancient animal viruses.
Perform metagenomic analysis of slime mold genome and transcriptome. Genomic information of viruses is extracted from a large amount of metagenetic information of slime mold, and homology with genes of the current animal virus will be discussed. In addition, genes are extracted from fossils considered to have evidence of viral infection, and metagenomic analysis is performed to detect ancient viral genes.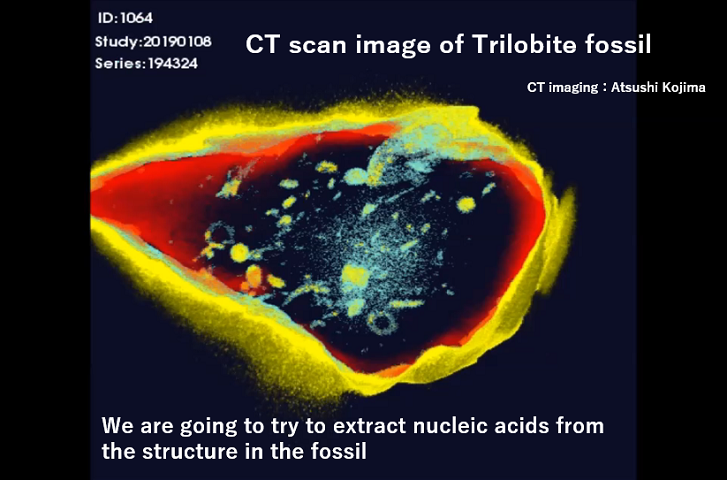 COPYRIGHT 2019 ©TOKYO UNIVERSITY OF AGRICULTURE AND TECHNOLOGY., ALL RIGHTS RESERVED.