[LIFE SCIENCE] Nagaoka Team
Implication of breast milk and gut microbiota on maternal-infant communication for growing up healthy
Team Head
Foreign Researcher(s)
Members
Akio Saito (Institute of Engineering / Associate Professor), Tsuyoshi Shimmura (Organization for Promotion of Tenure-track System / Institute of Agriculture / Associate Professor)
Overview
As the rising cost of medical expenses due to the aging of the population is pressing on Japan's social security system, it is required to establish a lifestyle that does not get sick. We mammals have acquired mammary gland and adopted "brothering" to give mother's milk and give to child to breeding strategy and have been developed. Breast milk is a completely nutritious food for children, and contains various minerals and vitamins, mainly protein and lactose, as well as a large amount of free amino acids, and it plays a role not only to grow children but also to healthy grow them. There is. For mammals, the intestinal flora is important for maintaining homeostasis, and it is known that disturbance of the intestinal flora increases the risk of developing various diseases. The intestinal flora begins to form shortly after it is produced, and at weaning it acquires a flora similar to adult animals. That is, if communication between mother and offspring is performed through mother's milk and enteric bacteria, and if the mechanism can be clarified and the basic flora formed during feeding can be healthy, the risk of developing various diseases will be It is thought that it can reduce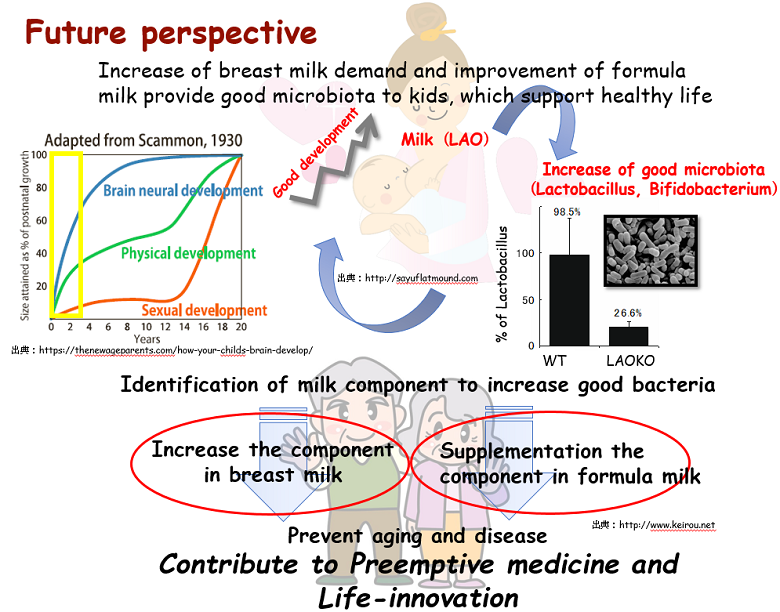 Approaches
Recently, the Development Origins of Health and Disease (DOHaD) hypothesis attracts attention that the risk of developing a number of diseases is influenced not only by genetic predisposition and lifestyle in adults but also by the fetal and infancy environments. . In other words, we believe that proper management of fetal and infant development can be the ultimate preemptive medical treatment for a healthy longevity society that does not become ill. This research team focuses on the formation of intestinal bacterial flora that occurs in infancy, and aims to elucidate the mechanism by which the intestinal bacterial flora prepared by breastfeeding will robustly develop biological functions such as brain function and immune function of offspring.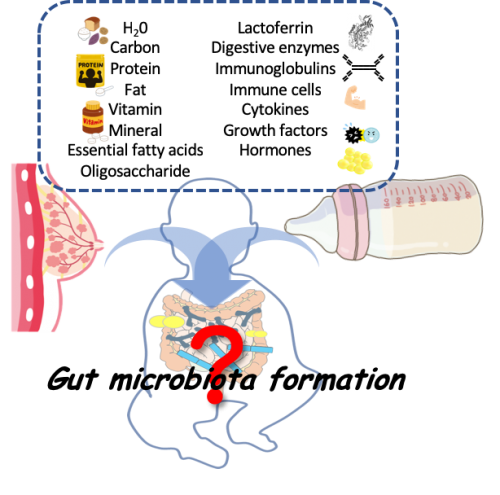 Plan
Team Nagaoka has a knock-out mice that show changes similar to gut microbiota formation in breast milk-fed and artificial milk-fed infants in humans. This mouse reveal the differences o brain function in adulthood by changing gut microbiota during infancy. We are investigating not only brain function but also immune function in addition to the analysis of milk component and microbiome. Team Kimura is in charge of analyzing gut bacteria-derived metabolites in order to clarify how gut microbiota modulate brain function and immune function. In order to evaluate the brain function of the infant, team Shimmura conduct higher-order behavioral test and molecular analysis. Finally, Saito is in charge of developing a chemical drug synthesis method for target molecule after identification. With Prof. Andersson, Prof. Yamaguchi, Prof. Yoshimura and Prof. Jin, this research team aims for establishment of "new insight" such as the ultimate preemptive medical treatment. We find good bacteria in gut that are effective in preventing dementia, cancer and lifestyle-related diseases, and identify components in breast milk that control their growth. Moreover, we goal to develop a useful chemical drug to regulate good bacteria in vivo animal.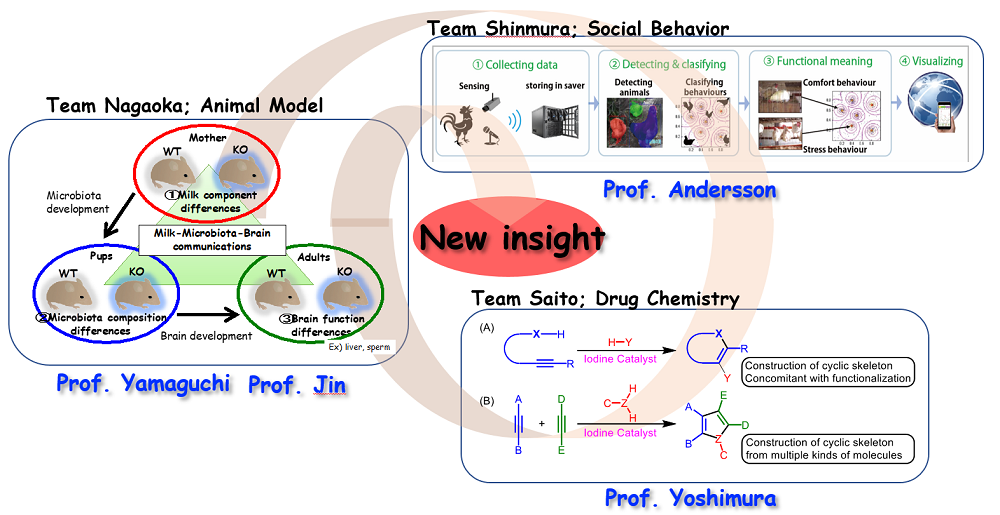 COPYRIGHT 2019 ©TOKYO UNIVERSITY OF AGRICULTURE AND TECHNOLOGY., ALL RIGHTS RESERVED.