Team Head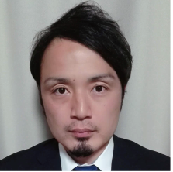 Makoto Yoshida
| | |
| --- | --- |
| Affiliation | Institute of Agriculture |
| Division / Department | Division of Natural Resources and Ecomaterials |
| Position | Professor |
| URL | http://web.tuat.ac.jp/~ymakoto/ |
Foreign Researcher(s)
Members
Masafumi Yohda (Institute of Engineering / Professor), Kazuo Nagasawa (Institute of Engineering / Professor), Masaharu Kameda (Institute of Engineering / Professor), Keiichi Kaneko (Institute of Engineering / Professor), Masaki Inada (Institute of Engineering / Associate Professor), Hiromasa Shimizu (Institute of Engineering / Associate Professor), Terunori Kaihara (Institute of Global Innovation/Assistant Professor), Yuka Kojima (Institute of Global Innovation/Assistant Professor)

Elucidation of olfactory mechanism and development of olfactory sensor
Overview
Organisms obtain various information from the smell in the environment. Just as police dogs in criminal investigations and drug detection dogs at airports, the animal olfactory sense has extremely high sensitivity and high discrimination, and no artificial smell detection device has achieved such performance. The olfactory nerve cells in the epithelia in the nasal cavity express membrane proteins called olfactory receptors and act as sensors. There are several hundred olfactory receptors per species, and their response to odor differs from one another. We are conducting research to elucidate the odor response mechanism of olfactory receptors and develop an olfactory sensor using olfactory receptors. The olfactory receptor is a membrane protein and is extremely difficult to study. We are developing olfactory receptor potent expression technology and are working on elucidation of its structure and function. In addition, by analyzing the response patterns of multiple olfactory receptors when exposed to odor molecules from the gas phase, we have succeeded in identifying odor molecules that are very close in chemical structure. This technology is expected to be applied to the development of an odor sensor that mimics the sense of smell.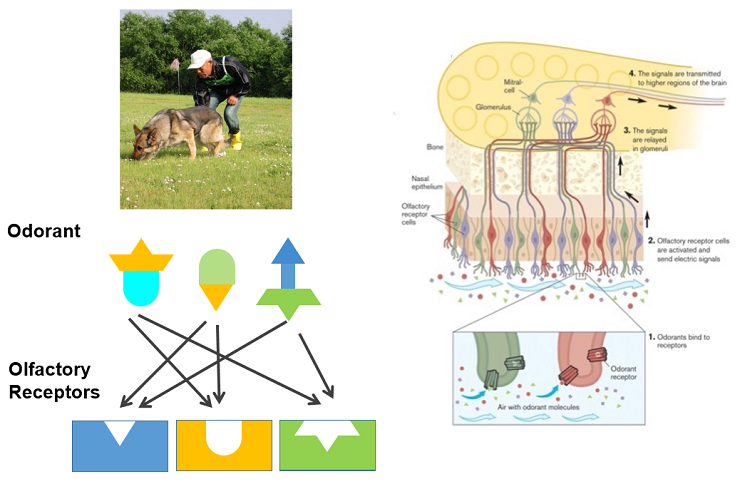 Members
Hiroaki Matsunami  (Duke University School of Medicine, U.S.A.)
Masafumi Yohda  (Institute of Engineering / Professor)
Masaharu Kameda (Institute of Engineering / Professor)
Yosuke Fukutani (Institute of Engineering / Assistant Professor)
Effects of hypergravity and microgravity on bone and muscle mass in mice
Overview
Space flight is known to induce severe systemic bone loss and muscle atrophy of astronauts due to the circumstances of microgravity. Mechanical loading by exercise recovers the bone and muscle mass to avoid microgravity-induced bone and muscle loss. Inada-Itoh research group studies the effects of hypergravity and microgravity on musculoskeletal tissues. We have reported that hypergravity and microgravity exhibited reversal effects on the bone and muscle mass in mice by space experiments at Japanese Experimental Module, called as 'Kibo', in the International Space Station (ISS) and ground experiments. Microgravity decreased bone mass, on the other hand, 2G hypergravity increased bone and muscle mass (Fig.1.). In the analysis for mRNA expression by qPCR, bone formation genes including BMP2 were up regulated, and muscle regulatory genes were up regulated whereas autophagy-related genes were down regulated in 2G-loaded mice. We currently investigate the molecular mechanisms for altered gravity-induced changes of bone and muscle mass.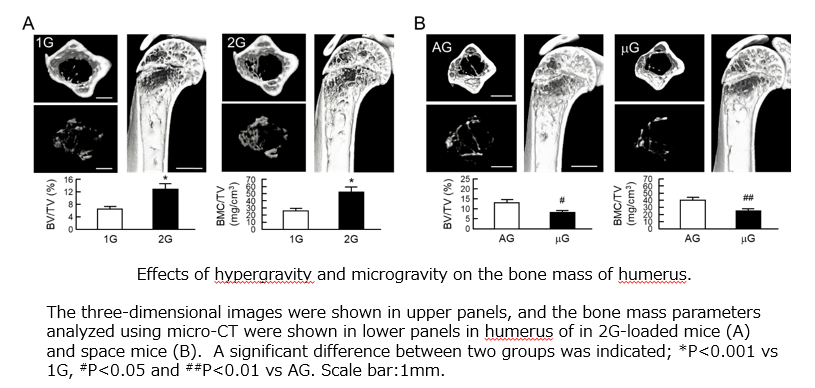 Members
Yoshifumi Itoh  (University of Oxford, U.K.)
Masaki Inada  (Institute of Engineering / Associate Professor)
COPYRIGHT 2019 ©TOKYO UNIVERSITY OF AGRICULTURE AND TECHNOLOGY., ALL RIGHTS RESERVED.