[FOOD] Ohtsu Team
Research of cultivation techniques using biological interaction to ensure maximum yield under nutrient deficiency and environmental stress caused by global change
Team Head
Foreign Researcher(s)

Sonoko D. Bellingrath-Kimura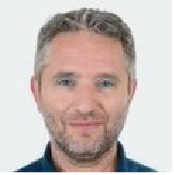 Matthew Reynolds   
| | |
| --- | --- |
| Affiliation | International Maize and Wheat Improvement Center (CIMMYT) (Mexico) |
| Division / Department | Global Wheat Program |
| Position | Head of Wheat Physiology |
| URL | http://www.cimmyt.org/ |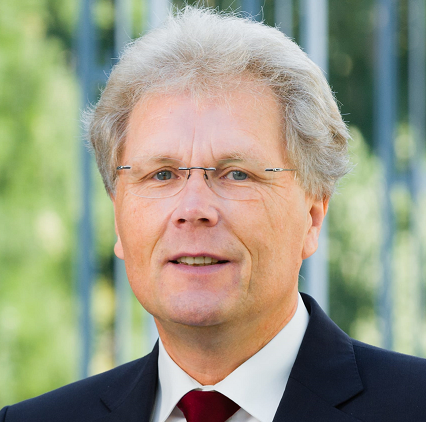 Knut Schmidtke   
| | |
| --- | --- |
| Affiliation | Dresden University of Applied Sciences (HTWD)(Germany) |
| Division / Department | Faculty of Agriculture/Environment/Chemistry |
| Position | Professor, Vice-Rector for Research and Development |
| URL | https://www.htw-dresden.de/en/home.html |
Members
Taiichiro OOKAWA (Institute of Agriculture / Professor), Tetsuya YAMADA (Institute of Agriculture / Associate Professor), Takashi Motobayashi (Field Science Center / Associate Professor), Takuya Ban (Field Science Center / Associate Professor), Shin OKAZAKI (Institute of Agriculture / Associate Professor), Yuan Kun (Institute of Global Innovation/Assistant Professor), ARTIGAS RAMIREZ MARIA DANIELA (Institute of Global Innovation/Assistant Professor)
Overview
The purpose of this research team is to clarify the cultivation technology to ensure the maximum yield of crops even under the stress caused by the environmental change facing the earth. It is necessary to absorb a large amount of nitrogen during the growth period in order to increase the photosynthetic activity and obtain a sufficient yield. Chemical nitrogen fertilizers consume a great deal of energy in their production, and they need to be reduced because they are made from fossil fuel which is a limited resource. Therefore, we focus on plant-microbe interaction, breeding, organic farming and smart farming using IOT technology to achieve the purpose in a sustainable way. We work with overseas researchers on isolation and mechanism analysis of growth promoting microorganisms that can be adapted to stress environments, development of varieties suitable for organic farming, and development of efficient fertilization methods using IOT technology.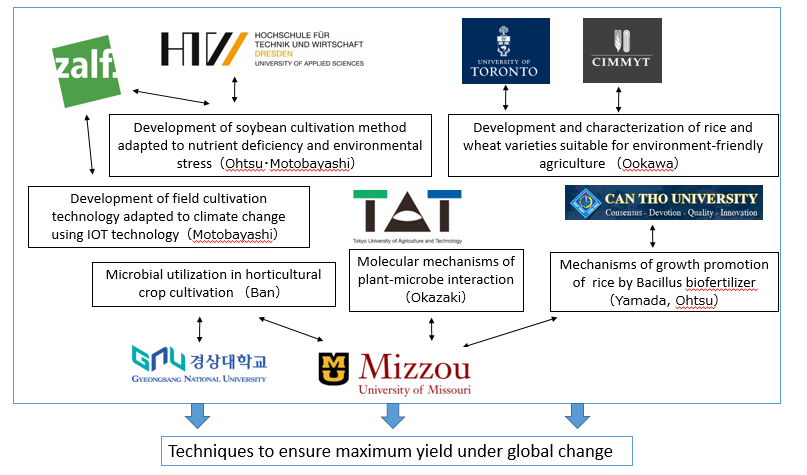 Approaches
Soybean is attracting attention all over the world as a plant protein source, but yields are low in areas where cultivation history is short. In recent years, soybean production and cultivation area have doubled in Europe, but in Central Europe around northern Germany, there are few suitable root nodule bacteria which causes low yield. Therefore, we aim to isolate and use rhizobia suitable for the European environment as biofertilizer. In the field of soybean in Europe, sulfur deficiency and water shortage are problems, while in Japan, especially in soybean field converted from paddy field, there are problems with poor drainage and inhibition of root elongation at the hard pans. In this research, in cooperation with ZALF and HTWD, improvement of soybean cultivation method adapted to different field environment is carried out using the function of soil microorganism.
Organic farming is important for sustainable agriculture. In this research, in cooperation with CIMMIT and the University of Toronto, we will clarify the physiological functions of rice and wheat varieties suitable for environment-friendly agriculture such as organic farming, and develop and characterize varieties tolerant to environmental stress.
As for horticultural crops, TUAT has been conducted the research of blueberries for the longest time in Japan. We aim to isolate and analyze useful microorganisms that are resistant to acidic soils on which blueberries preferably grow.
At TUAT, biofertilizers containing Bacillus strain TUAT1 which promotes the growth of crops such as rice have been developed. In this study, we aim to clarify the molecular mechanism of plant-microbe interaction in growth promoting microorganisms including TUAT1 strain to use them as biofertilizers under stress environment.
Furthermore, in cooperation with ZALF, which is already conducting cutting-edge smart farming research, we will do research smart farming techniques adapted to urban farming.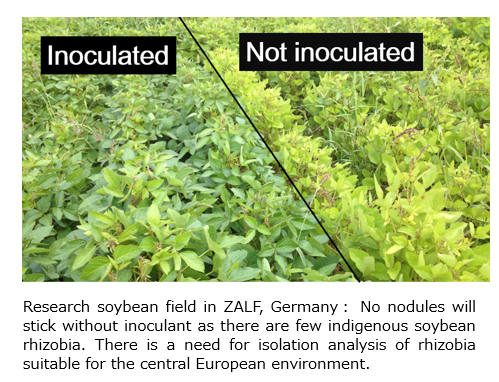 Plan
Joint research with ZALF will be conducted on improvement of soybean cultivation methods in sulfur-deficient areas in Europe, the effects of sulfur fertilization on rhizospheric phosphorus nutrient status, and characterization of soybean rhizobia isolated from German fields. In addition, we will investigate the effect of crushing of the hard pan in soil to improve the drainage on the distribution of soybean roots in collaboration with HTWD researchers in the TUAT fields.
In cooperation with CIMMYT and the University of Toronto, we will characterize and develop rice and wheat varieties suitable for environment-friendly agriculture such as organic agriculture, resistant to high temperature, drought and nutrient stress due to global warming.
We will identify and analyze bacterial flora of arbuscular mycorrhiza and fungi adaptable to acid soil, isolated from blueberry field in TUAT.
Components carrying a crop growth promoting effect will be fractionated and purified from the strain TUAT1 and other Bacillus bacteria. In addition, based on the result of inter varietal difference in the effect of Bacillus biofertilizer in improving rice salt damage tolerance, the cause genes are narrowed down by Genome Wide Association Studies (GWAS). Furthermore, we will develop an application method of TUAT1 biofertilizer to promote the growth of Japanese and European soybean varieties.
We will introduce IOT technology to TUAT fields in corporation with ZALF, which is already conducting cutting-edge efforts in smart farming. We will analyze relationships of the crop growth and yield with data taken with various nutrient sensors and images taken by drones.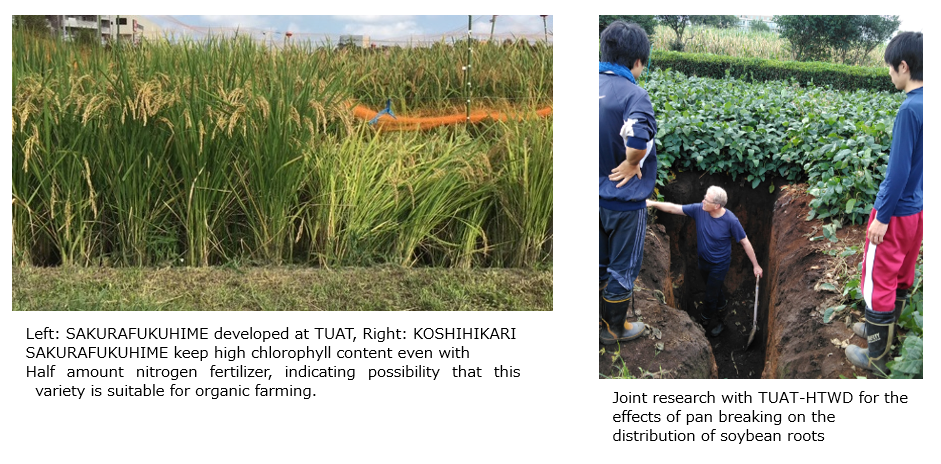 COPYRIGHT 2019 ©TOKYO UNIVERSITY OF AGRICULTURE AND TECHNOLOGY., ALL RIGHTS RESERVED.