[ENERGY] Arakaki Team
Understanding and application of regulation mechanisms of hardness and toughness of biological hard materials
Team Head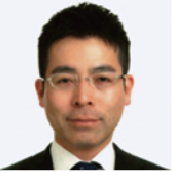 Atsushi Arakaki
| | |
| --- | --- |
| Affiliation | Institute of Engineering |
| Division / Department | Division of Biotechnology and Life Science |
| Position | Associate Professor |
| URL | http://web.tuat.ac.jp/~biomol/ |
Foreign Researcher(s)
Members
Tomoko Yoshino (Institute of Engineering / Professor), Yasumoto Nakazawa (Institute of Engineering / Associate Professor), Ryo Negishi (Institute of Global Innovation / Assistant Professor)
Overview
For the realization of energy saving society, development of technologies including new materials preparation process, utilization of environmental load-reducing materials, and weight saving of materials is required. In nature, living organisms produce biological materials using limited energy in their body and the most common element on the earth, and utilize the materials as body parts to survive in harsh environment. Thus, the manufacturing ways in organisms are promising strategy for next generation materials preparation method. This team investigate to understand regulation mechanisms of hardness and toughness of biological hard materials, and apply them to develop new methodologies for materials synthesis.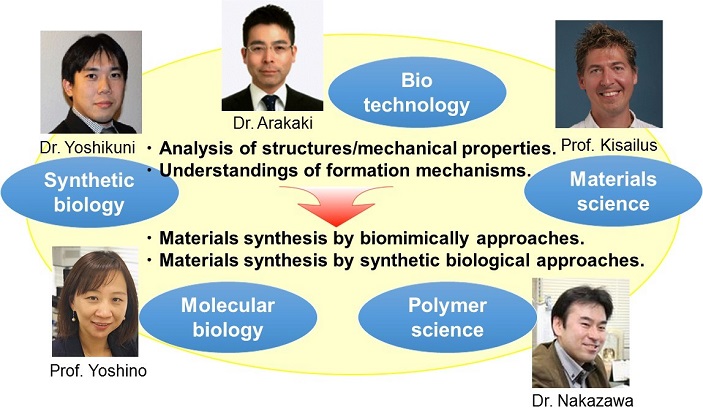 Approaches
As seen in bone and teeth of animal and seashell, living organisms produce hard materials which consist of organic and inorganic components, and shows light weight and superior mechanical properties such as hardness and toughness. The properties in biological hard materials is designed and regulated at nano-scale in order to work them as functional parts in the organism. This team aim to study understandings of principle of mechanical properties involving structure and composition, as well as the formation mechanism of biological hard material. In addition, the structural design and formation mechanism clarified in this study will be applied for development of new materials toward realization of energy saving society.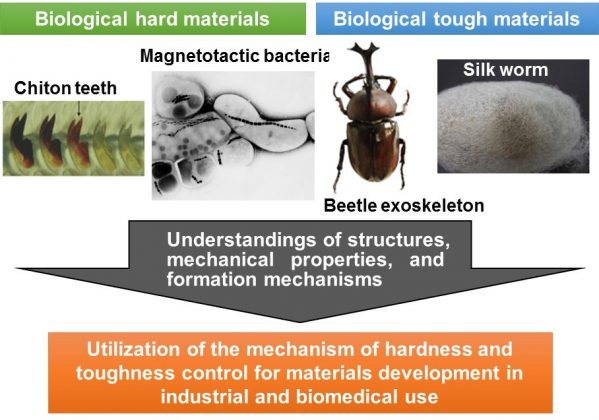 Plan
1. Analysis of structures and mechanical properties of biological hard materials.
Iron oxide crystals in hard teeth of chiton and iron oxide nanoparticles from magnetotactic bacteria will comparatively be analyzed. Relationships between microstructure and mechanical properties in beetle exoskeleton and silk fibroin will be analyzed.

2. Understandings of formation mechanisms of biological hard materials.
Genes and proteins to be involved in biological hard materials will be identified by genome and proteome analyses of organisms.

3. New materials synthesis by synthetic biological approaches.
Cells producing magnetic particles regulated in structure and composition will be constructed based on genome rearrangement using magnetotactic bacteria.

4. New materials synthesis by biomimically approaches.
Materials with various hardness and toughness will be prepared by mimicking the biological materials investigated in this study, and will be applied for medical and other industrial materials.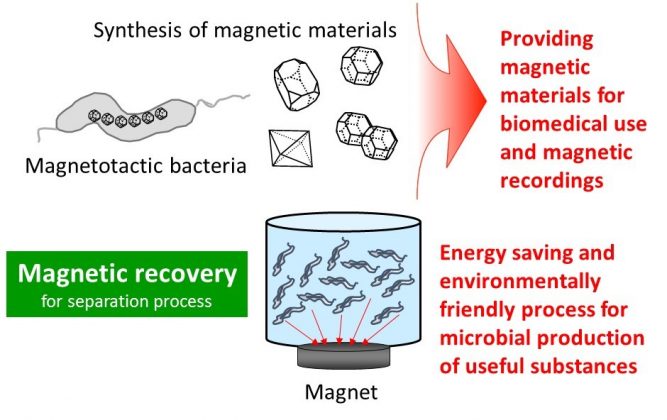 COPYRIGHT 2019 ©TOKYO UNIVERSITY OF AGRICULTURE AND TECHNOLOGY., ALL RIGHTS RESERVED.