[ENERGY] Tominaga Team
Development of polymeric materials for flexible energy conversion/storage devices
Team Head
Foreign Researcher(s)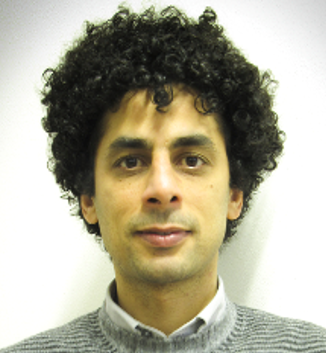 Jusef Hassoun
| | |
| --- | --- |
| Affiliation | University of Ferrara (Italy) |
| Division / Department | Department of Chemical and Pharmaceutical Sciences |
| Position | Associate Professor |
| URL | http://docente.unife.it/jusef.hassoun |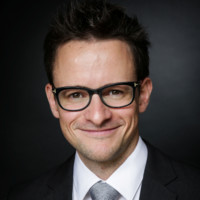 Karel Goossens
| | |
| --- | --- |
| Affiliation | Institute for Basic Science(Korea) |
| Division / Department | Center for Multidimensional Carbon Materials |
| Position | Senior Research Scientist |
| URL | - |
Members
Koji NAKANO ((Institute of Engineering / Associate Professor), Takahiro ICHIKAWA (Organization for Promotion of Tenure-track System /Institute of Engineering / Associate Professor) , Susumu Inasawa (Institute of Engineering / Associate Professor)
Overview
Tominaga team focuses on the consistent basic research from material synthesis to device fabrication with the aim of developing new flexible energy conversion and storage devices that contribute to the development of information society and automobile field. The specialty and research fields of the team members include materials development of ion-conductive polymers, evaluation of fundamental physical properties, research on novel polymer electrolytes, polymer synthesis, catalyst technology, Li ion secondary batteries and soft matter materials. Electrochemical evaluation, structural analysis, construction of a specific phase structure utilizing liquid crystalline molecule aggregation and application research on fuel cell membrane are also considered to be important topics for the research team. Tominaga team will combine each high expertise and supplement the fundamental knowledge and technology under a common keyword "solid polymer electrolyte", and develop consistent research until evaluation.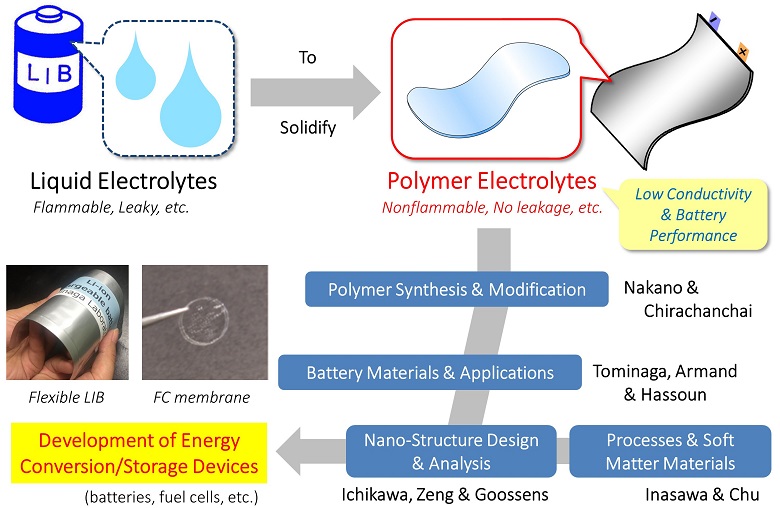 Approaches
A solid polymer electrolyte, which is a solid ionic material that is safe and excellent in moldability, is indispensable for the development of next-generation energy conversion and storage devices. With the development of information technology such as IoT in recent years and the spread of electric vehicles worldwide, the need for flexible devices having material properties as polymers has been rapidly rising. The R & D on solid ionics is increasingly intense both at home and abroad, and cooperation among researchers beyond research fields and international cooperation are indispensable in our country. Therefore, in our research team, we aim to develop materials that can be applied to new flexible energy conversion/storage devices by establishing international teams by researchers active in the front lines of this research field.
Research on solid polymer electrolyte in Japan is decreasing year by year especially for storage battery applications such as Li-ion secondary batteries, and low performance against practical use of polymer materials used for many of them has been a problem. Regarding fuel cells, fundamental research on aromatic hydrocarbon polymers is progressing mainly in Japan and the United States, but there are few studies with different materials systems and approaches. We focus on development of novel macromolecules that do not depend on material systems so far, and there are academic features and originality in consistency from synthesis to device development. Fundamental contribution to the development of new flexible devices is expected.

Plan
Based on our fundamental research results and know-how on polymer materials with excellent Li-ion conductivity, we will plan to do the research on flexible energy conversion and storage devices in each member conducts, and basic experiments are carried out on its feasibility such as synthesis of novel polymers, basic evaluation of Li air batteries and Li sulfur batteries, applicability to polymer fuel cells. We will investigate the discovery of a novel material system that can be developed to devices by fusing the core technologies each possesses, and to develop into a research on flexible ionics that has never been before.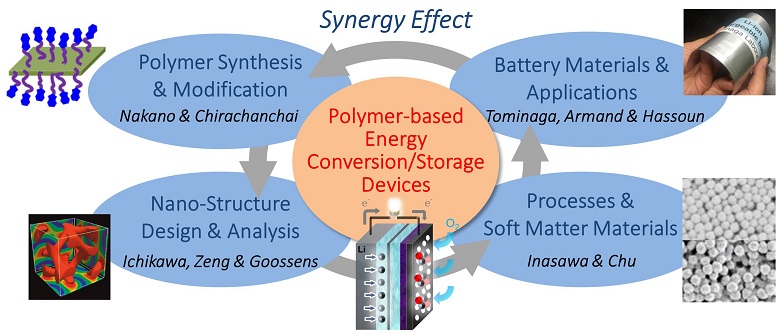 COPYRIGHT 2019 ©TOKYO UNIVERSITY OF AGRICULTURE AND TECHNOLOGY., ALL RIGHTS RESERVED.